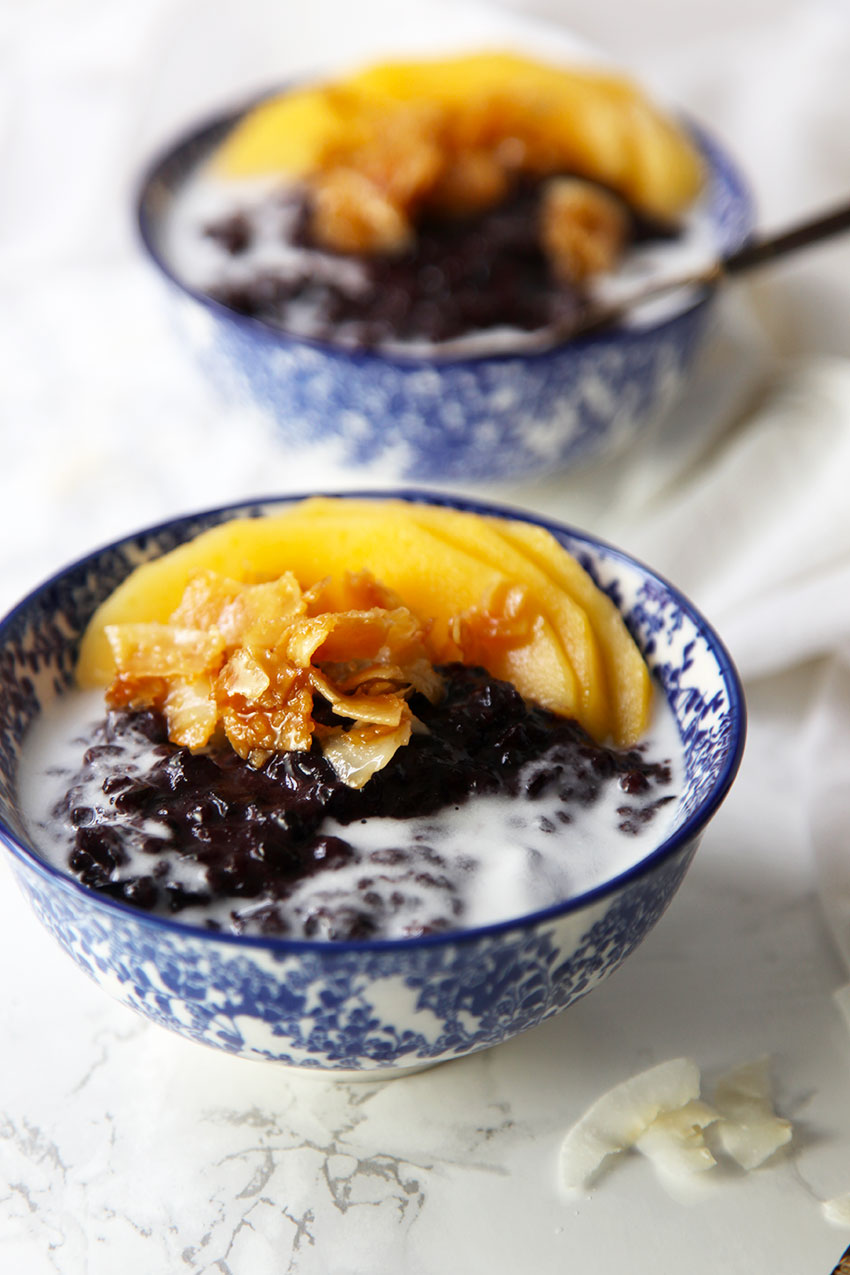 Black sticky rice with caramelised coconut and mango is our favourite dessert, but I hear it is most often eaten at breakfast in Thailand.
I could definitely get on board with that!
On our recent visit to Thailand, H and I ate this everyday – sometimes twice a day!  It's the perfect balance of sweet and salty and it's so easy to make at home.
I have tried to make healthier versions in the past using maple syrup and sugar-free sweeteners but it's just not the same, so I have stuck to tradition and used palm sugar.
To make you simply cook your rice on the stove in water and coconut cream, once cooked add extra coconut cream and palm sugar and you are done!  The salty coconut cream balances the sweetness of the rice and the caramelised coconut – so good.
Black sticky rice with caramelised coconut and mango
Ingredients
1

cup

black sticky rice

(black glutinous rice)

400

ml can

coconut cream

180

grams

palm sugar

,grated

1

cup

shredded coconut or coconut flakes

1

mango

,sliced to serve
Instructions
For the Black Sticky Rice
Rinse the black rice well and add to a large saucepan with 2 1/2 cups of water, 1/2 a cup of coconut cream and 1/4 tsp salt.

Bring to the boil, cover, lower heat to a simmer for 45 minutes. Stirring often ensure it doesn't stick.

Once tender, remove from the heat, add another 1/2 cup of coconut cream and half the palm sugar. Set aside.

For the Salty Coconut Cream
Add the remaining can of coconut cream to a small saucepan with a 1/4 tsp salt and warm gently. Set aside.
For the Caramelised Coconut
Add the remaining palm sugar to a saucepan with 3 tablespoons water and mix until the sugar has dissolved and bring to the boil.

Add coconut and stir until coated and the liquid has mostly absorbed. Set aside.
To serve
Add black sticky rice to small bowls and top with salty coconut cream, caramelised coconut and sliced mango
Notes
Soaking the rice the night before or for a few hours before will reduce the cooking time. 
The black sticky rice also freezes well if you would like to double the recipe.