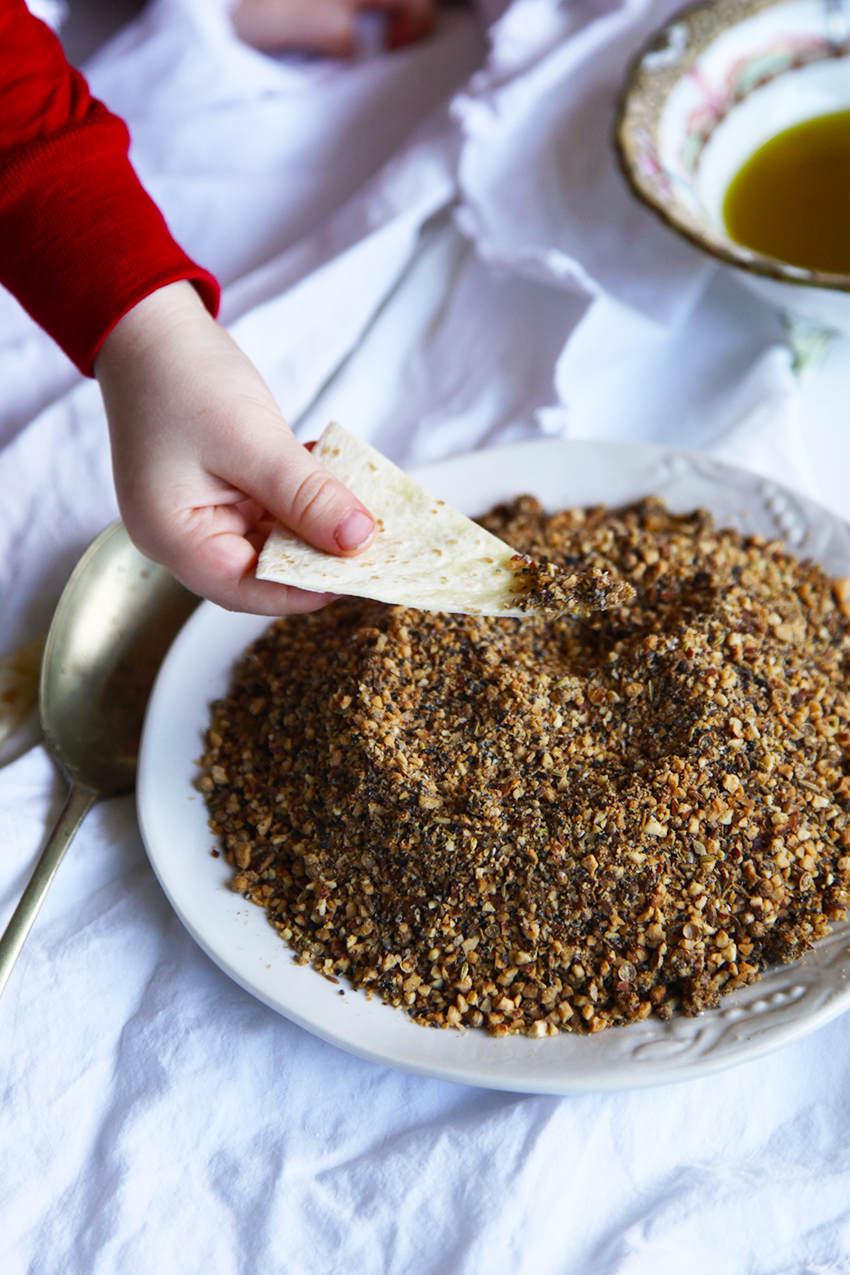 I know what you are thinking – Dukkah isn't kids food! Well I thought the same things, so when H and I decided to make this homemade nutty dukkah the other morning. I wasn't expecting H to like it. He has never been a huge fan of cumin so I thought there is no way….
But, I turned away for a moment, came back to the table to see H shovelling it in by the handful – see proof in the video below…
I guess it just proves that their tastes change and what they didn't like last week they may like now! I'm sure it also has something to do with helping to make it. So get your little one involved with the measuring and taste testing as you go.
Dukkah is a middle eastern roasted spice mix that is traditionally served on it own with bread and olive oil. There are stacks of other uses for it and it will make your average dishes great. See a few options below:
Sprinkle on soups and salads

Use it to crumb fish or chicken

Sprinkle it on your labneh when serving – see my labneh recipe here
Serve with homemade Lebanese flatbread

Sprinkle on your scrambled eggs, fried egg or roll your soft-boiled egg in it and serve with avo and toast

Add to your roasted veggies – see my quick dukkah roasted brussels spouts recipe below

Add to jars and give to your friends and family as a lovely homemade gift
Homemade Nutty Dukkah
Ingredients
1

cup

almonds

2

tablespoons

cumin seeds

1

tablespoon

coriander seeds

1

tablespoon

fennel seeds

1

tablespoon

sesame seeds

(we used black)

1

teaspoon

ground ginger

1

teaspoon

salt

2

teaspoons

chia seeds
Instructions
Pre-heat oven to 180 C / 350 F. Add the almonds to a roasting tray and roast for approximately 10 minutes or until golden. Add the cumin, coriander, fennel and sesame seeds to another tray and roast for about 10 minutes or until golden. Keep on eye on them.

Once cool add both to a mortar and pestle, along with the ginger, chia and salt. Bang away until you achieve a crumb. You don't want it super fine but no big chunks for little ones either.

Serve with olive oil and fresh bread or see my other ideas below
Notes
Will keep in an airtight container for a few weeks
If you don't have a mortar and pestle, add to a food processor and pulse until the desired consistency is reached
For roasted brussels sprouts with homemade nutty dukkah
Preheat oven to 200 C / 400 F. Chop brussels sprouts in half and add a good few glugs of olive oil and a few tablespoons of the dukkah mixture. Mix coat. Roast for about 15 minutes or until super golden. Serve