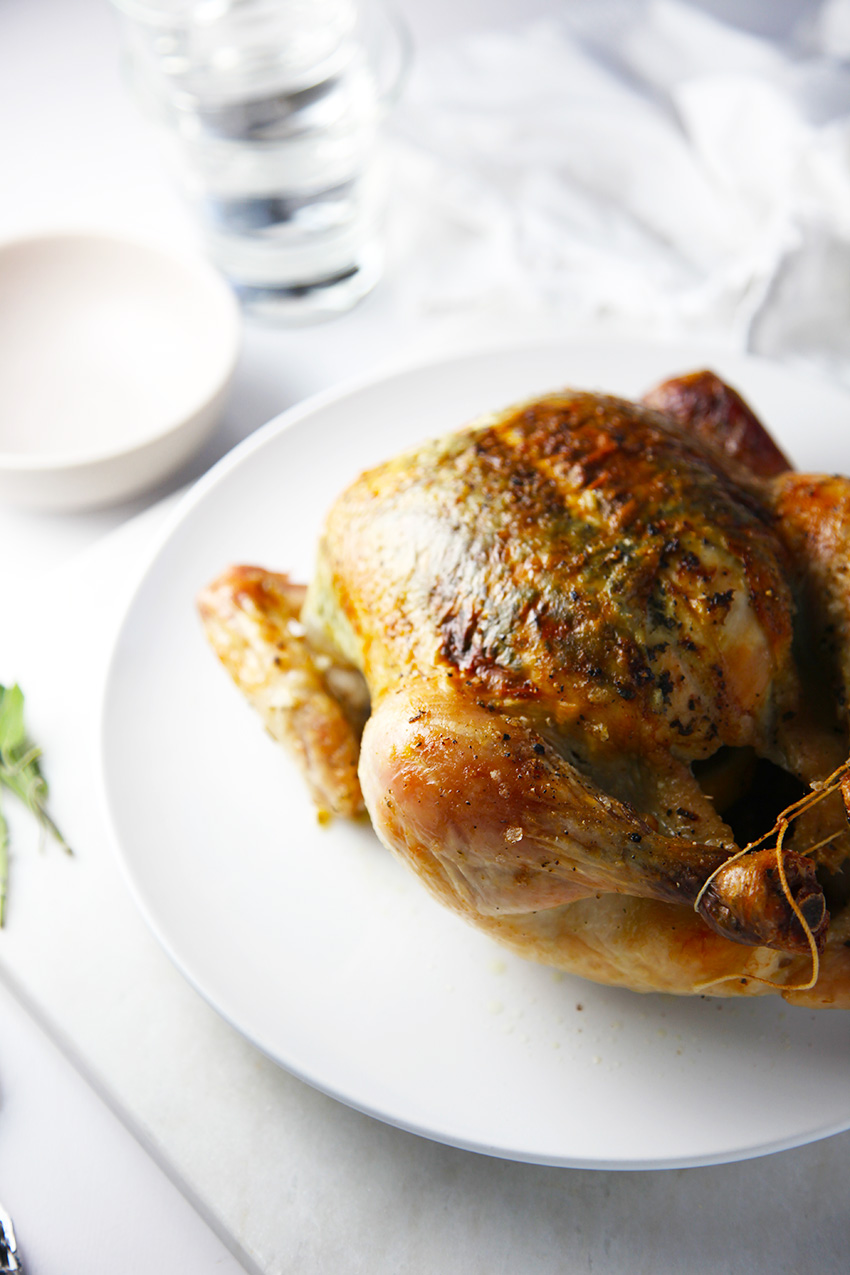 The classic roast chook, it's always a favourite at our table.  This recipe is really simple and the result is perfectly cooked chicken with juicy flesh and crispy skin, with hints of sage.
Up until fairly recently we always used the rotisserie to cook chicken, but with that no longer an option (apartment living!).  I have been experimenting in the oven to get a similar result.  The one thing that makes the biggest difference is allowing the bird to sit on the bench for 30 – 60 minutes before cooking – just like you would beef.  If it's a hot day 30 minutes should do it, allow an hour for the colder days.
The bird goes in the oven for an hour and a half.  If you would like to add veggies, do so when there is about 40 minutes left on the clock (parboil potatoes if using as they will take longer).  A thermometer is a really useful tool for cooking meat.  If you have one chicken should be at least 75 degrees C (165 degrees F) once cooked through.
My budding food photographer
Roast Chicken with Sage
Ingredients
1.8

kg

free-range chicken

2

tablespoons

sage; finely chopped

1

lemon; halved

1/2

cup

chicken stock

50

grams

butter; softened + 10-20 grams extra to rub on flesh

salt
Instructions
Pre-heat oven to 180 degrees C (350 degrees F). Rinse the chicken and pat dry. Using your fingers, separate the skin from the breast so you have a pocket to add your herb butter.

Combine the 50 grams of butter with the chopped sage place the entire amount under the skin. Use you hands to spread it around fairly evenly. Place the chopped lemon inside the chicken and tie the legs together with string. Rub the extra softened butter on the skin and sprinkle generously with salt.

Place into a large baking dish and add the chicken stock to the dish. Cook for an hour and a half.

Allow to rest for 15 minutes or so and serve
Notes
I served the chicken with roasted sweet potato, carrots, parsnips and eggplants. Toss in olive oil and roast when there is about 40 minutes remaining.
 The photos in the collage above were all taken by H.  No editing or cropping from me.  Clever little munchkin isn't he – proud mumma!