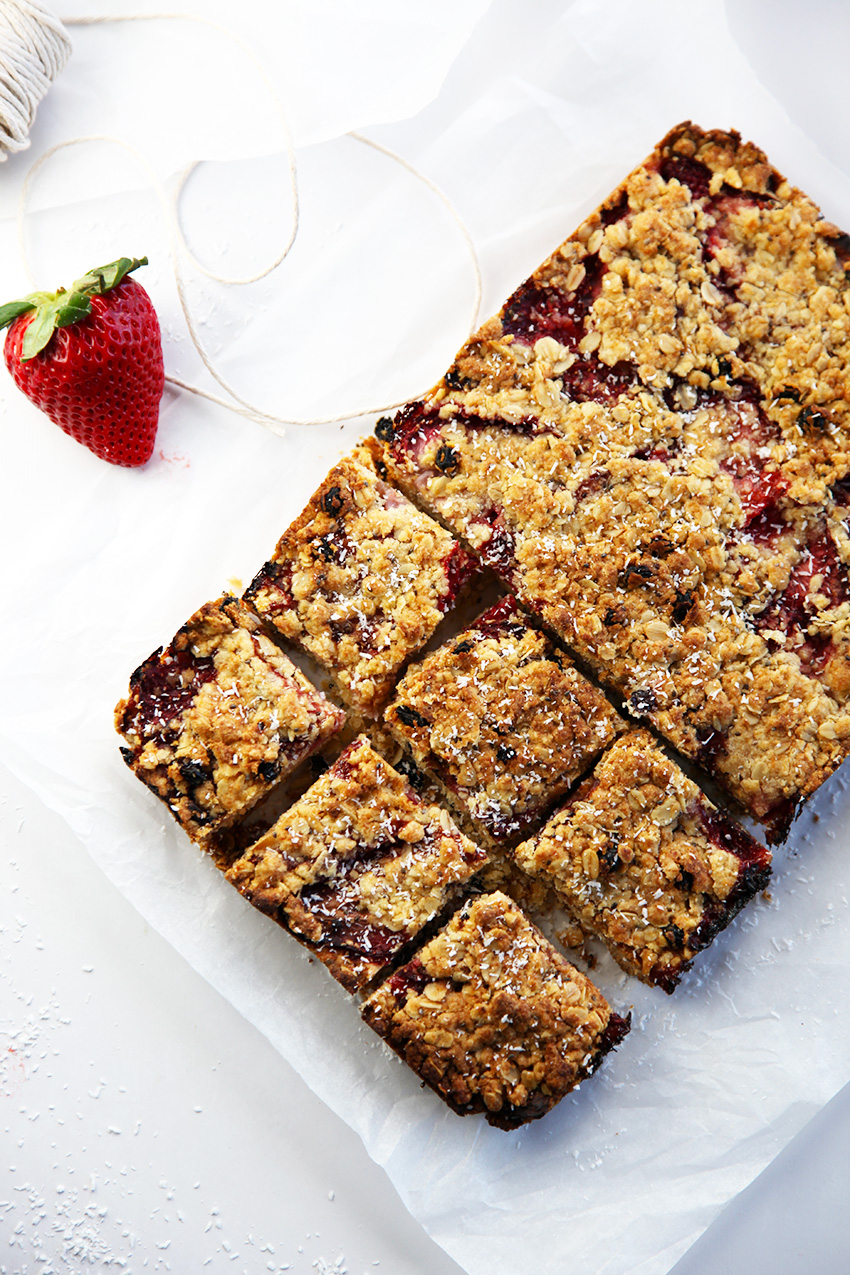 These strawberry and coconut muesli bars are a real winner. They are super easy to make and always work out beautifully. I have used strawberries because there seems to be an abundance of them in Australia at the moment, they are super cheap, super tasty and we can't get enough of them. You can substitute what's in season in your part of the world – think stone fruit like plums, apricots, cherry or even pineapple, pear and apple would work well. Enjoy xx
Strawberry and Coconut Muesli Squares
Ingredients
1 1/2

cups

(150g) oats (old fashioned oats, not quick oats)

1 3/4

cup

flour

1/2

cup

coconut

1

tablespoon

chia seeds

1/4

cup

currants

pinch of salt

1/2

cup

sugar

(optional or use a sugar alternative)

250

g

butter; melted

250

g

punnet strawberries
Instructions
Pre-heat oven to 200 degrees C (400 degrees F). Combine all dry ingredients in a large bowl (not the butter or strawberries). Add the melted butter and stir to combine, then use your hands to make sure its all incorporated. The mixture should form a large ball when you press it together. (If it is crumbling apart you may need a little more butter).

Take 3/4 of the mixture and press into a slice tray sized 25cm x 18cm, lined with baking paper. Press down really firmly with your hands.

Wash and slice the strawberries. Place on top of your slice and then take the remaining mixture and sprinkle over the top. Press down with your hands again. Its fine if there are strawberries poking though the mixture. Bake for 30-35 minters or until lovely and golden. Allow to cool on the bench and then place in the fridge. Slice and serve.
Notes
Makes 15 squares. Suitable to freeze.