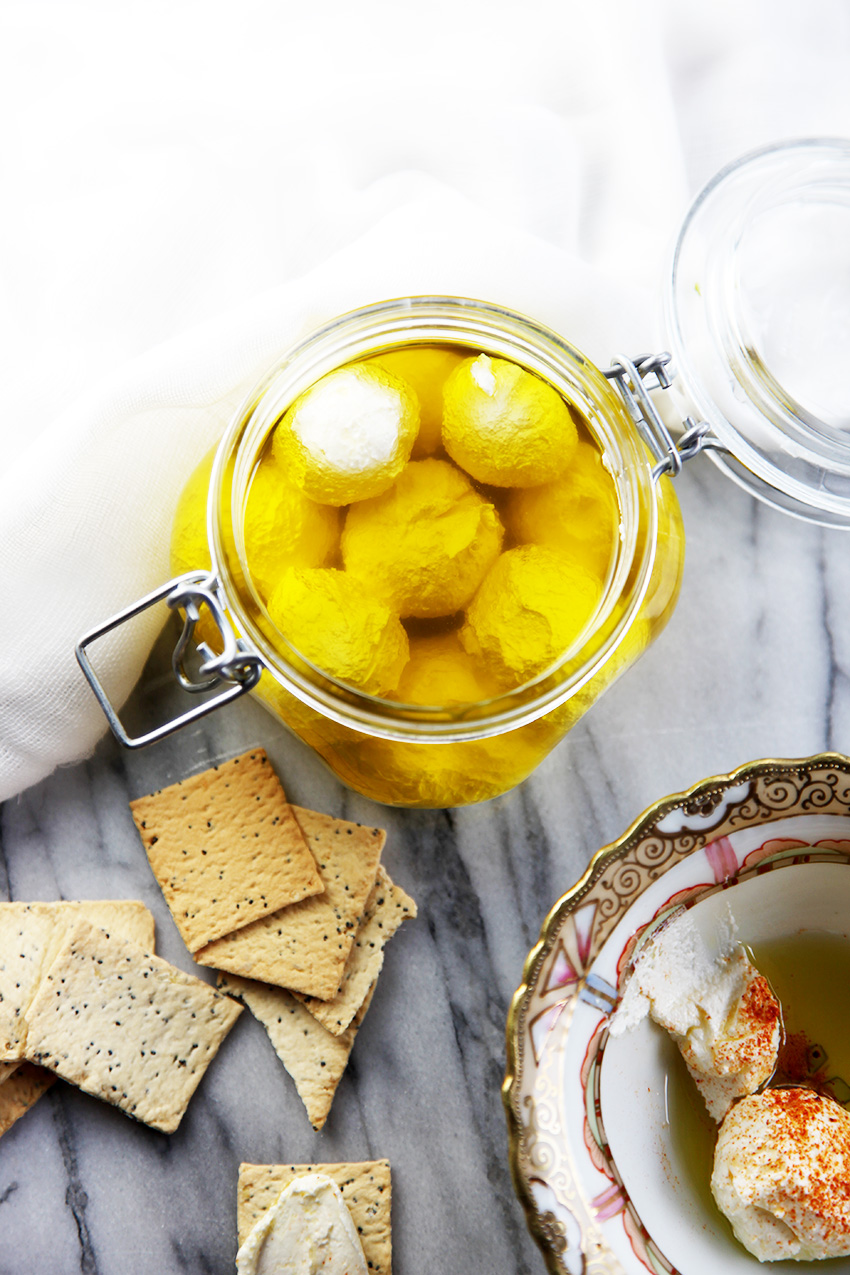 Labneh or yoghurt cheese is so easy to make and it is delicious.  It has a smooth and creamy consistency and a slight tangy taste.  It's great spread on crackers with a sprinkle of sumac – I also love a sprinkle of good quality sweet paprika and so does H.  I can see this being a staple in my home – ready for a healthy snack.   If your little ones enjoy the taste of natural yoghurt then they are sure to love this…
You simply strain the natural yogurt for a few days to allow the whey to drip through the cheesecloth, and what you are left with is labneh.  If placed back in the fridge at this point it will last for a few days.  Roll into perfect little portion sized balls and cover in olive oil, and it will last for a month or so – but it's so good, I doubt it will last any time at all.
 Labneh is great spread on toast as a healthy alternative to butter, or served more traditionally as part of a mezze selection.  Be sure to use a good quality olive oil.  I used an Australian fruity fragrant extra virgin olive oil, because the labneh will take on the flavour of the oil.  I've kept it super simple but feel free to experiment a little and add your favourite herbs.  A few springs of thyme or a chilli added to the oil would be gorgeous.
How to make labneh
Ingredients
1

kg

natural yoghurt

olive oil

salt

(*optional)
Instructions
Place a few layers of cheese cloth or muslin over a bowl add add the yoghurt. Gather up the edges and secure. Hang the yoghurt over a large bowl so it can drip in the fridge for 2 to 3 days.

Discard the whey*. Add the salt to the labneh if using and mix to combine. Rub olive oil into your hand and roll balls about the size of golf balls with the mixture. Place the balls into a jar and cover with olive oil.

Refrigerate and use within about a month or so
Notes
I used a clip to secure my cheesecloth and then chop stick to hang it over the bowl. Alternatively place a strainer over a large bowl and place the cheesecloth in the strainer to allow it to drip through.
*As one of my lovely readers has pointed out - the whey that has been strained is no longer required for this recipe but you can most definitely keep it and add it to other recipes, such as making bread, fermenting foods, soaking nuts/beans/grains, add to smoothies, etc.