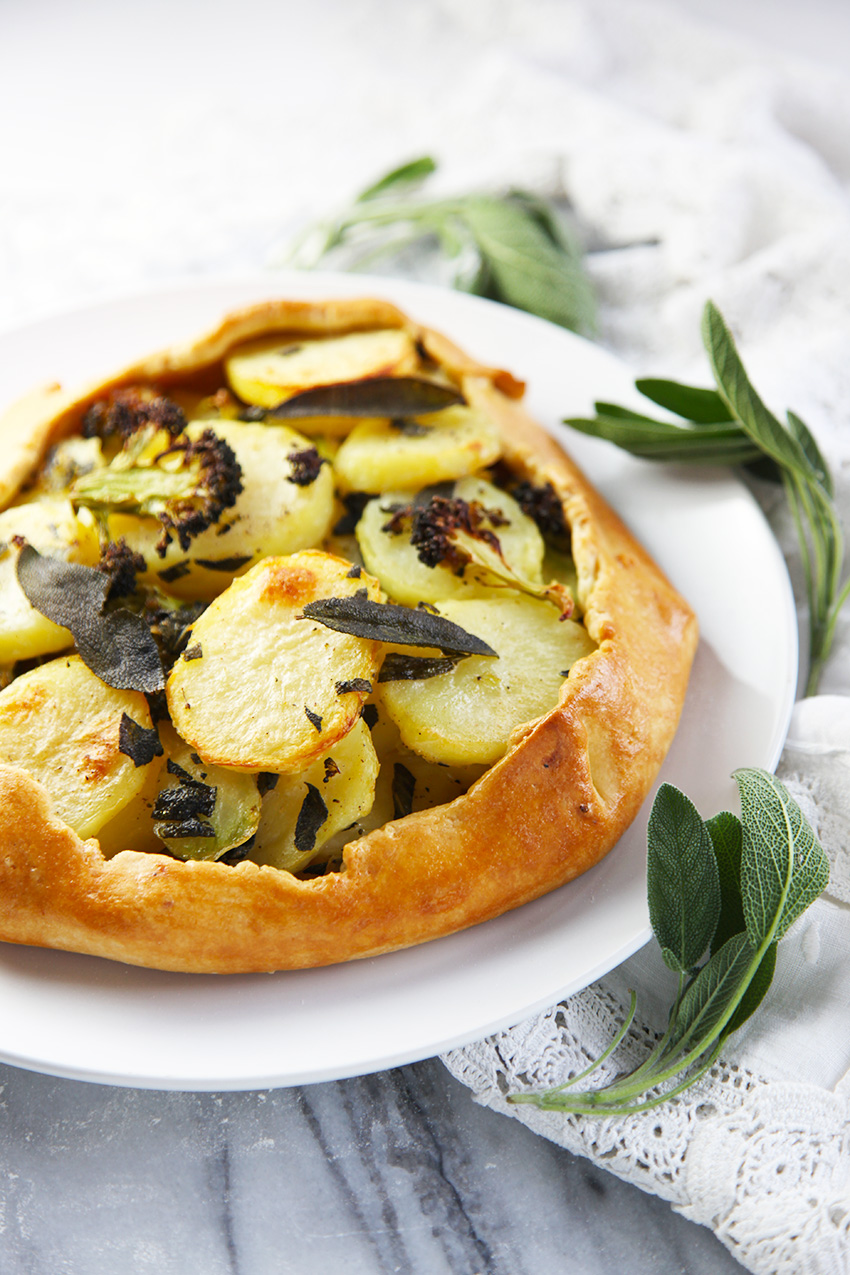 Galettes are really simple to make and you can put any veggies you like in them. I've used potato, broccoli and sage which are great together. I also put some sage leaves on top to crisp up in the oven.
The pastry I have made is also super simple and only takes 2 minutes to make in a food processor. If you don't have a food processor, use your hands, it will just take a little longer. If you want to skip making the pasty all together, a store bought short-crust pastry would also work – but nothing beats homemade.
When making the pastry remember an Australian cup is 250 ml compared to an American cup which is 240 ml. For most recipes it really doesn't make a difference, but for pastry, sticking to the correctly quantities is key to a beautiful pastry. Once you have added your cold water keep pulsing the mixture in the food processor until if forms a large ball. Don't be tempted to add more water (I've made that mistake once = huge fail!). It will come together on its own.
Potato and broccoli galette with crispy sage
Ingredients
Ingredients for the pastry
1 1/2

cups

(220g) of plain (all-purpose) flour

1

teaspoon

salt

85

grams

(6 tablespoon) butter; cut into small cubes

1/4

cup

ice cold water

Egg with a splash of milk; as a wash for the pastry
Ingredients for the filling
600

g

potato

(about 3 large potatoes)

1

small head of broccoli

small bunch of sage

, roughly chopped

olive oil

salt pepper
Instructions
Directions or the pastry
Place the flour and salt in a food processor and pulse to combine. Add the cubed butter and pulse until the butter is about the size of a pea. Add the cold water and keep pulsing until the dough comes together (as soon as it all comes together in a clump, its done. Don't over process). Wrap in plastic wrap refrigerate for 30 minutes.

Flour your bench lightly and roll the pastry out to about 30cm (12 inches) in diameter.
Directions for the filling
Pre-heat oven to 200 degrees C (400 degrees F). Peel and parboil the potatoes whole. Allow to cool slightly and slice thinly. Break the broccoli in to florets and also slice so they are reasonably thin to allow you to layer the potato and broccoli.

Combine the potato, broccoli and sage in a large bowl or on a board, being careful not to break up the potato, and add a good few glugs of olive oil so everything is well coated. Season well with salt and pepper.

Place the filling in the centre of the pastry, layering the potato and broccoli, leaving a boarder to fold over the filling. Fold over the edges and secure with a little water if it isn't sticking. Brush with the egg and milk mixture and bake for 50 minutes or until lovely and golden. Serve