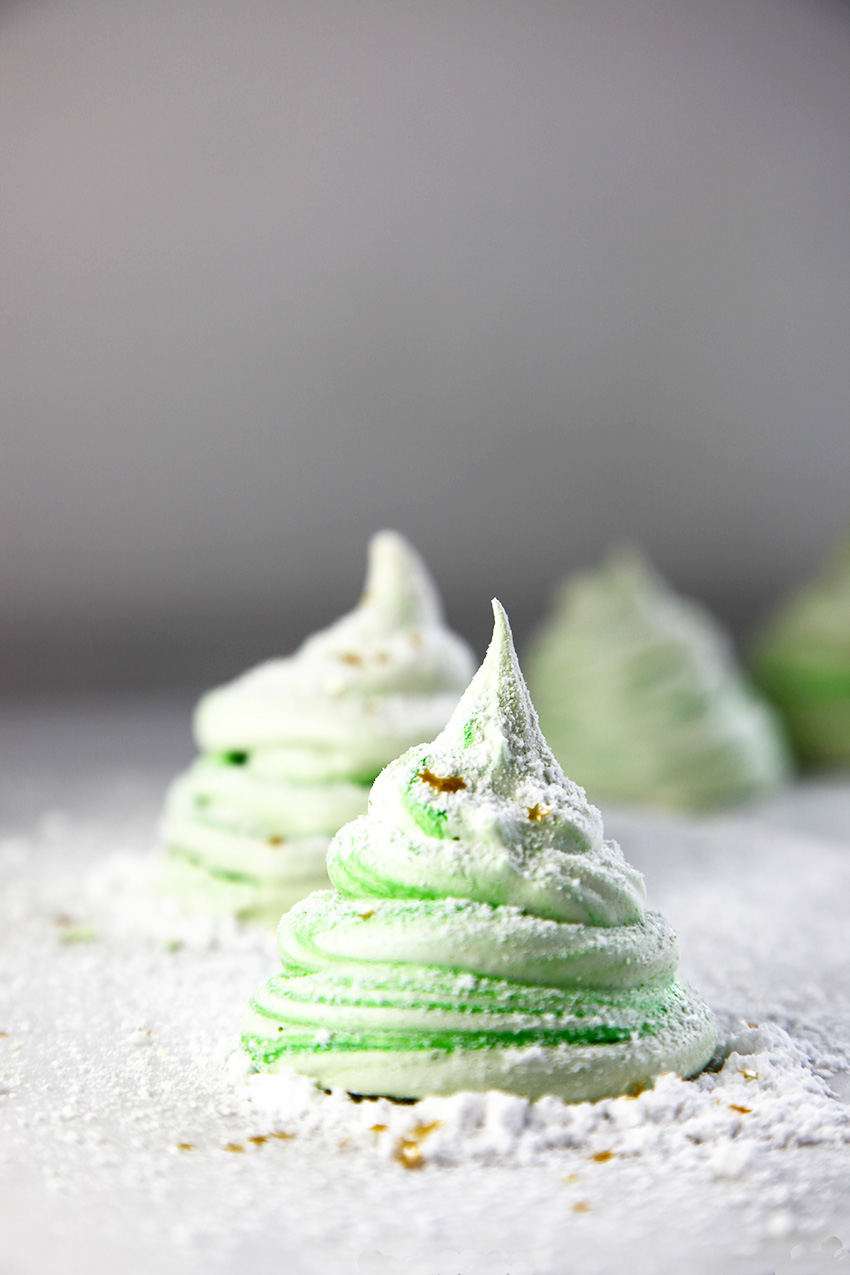 The countdown is on and I'm super excited this year. H and I were chatting about getting a photo with Santa the other day – or more accurately I was trying to convince him it was a good idea…
Me: What are you going to ask Santa for?
H: A drum and a flower
Me: Who are the flowers for?
H: Mummy.
My heart nearly burst – I have the sweetest boy….
H and I have already been getting into the Christmas spirit. We have made Christmas garland and decorations for our tree, a rosemary wreath for our door, Christmas cookies and these super cute pandan meringue christmas trees.
How gorgeous would they look on your Christmas day table!
The flavour of the pandan goes so well with the meringue. It really is very delicious and its naturally green!
Meringue is very easy to make with out a lot of ingredients. They can be made a couple of days in advance, just keep them in an airtight container until ready to serve.
Pandan paste is available from asian grocers and some supermarkets.
Pandan Meringue Christmas Trees
Ingredients
4

egg whites

1

cup

caster sugar

1

teaspoon

white vinegar

1

teaspoon

pandan paste

*optional - icing sugar to resemble snow - sprinkled on top
Instructions
Pre-heat oven to 100 degrees C (210 degrees F). Add the egg whites to a clean dry bowl. Whisk until soft peaks have formed. Slowly add the caster sugar and continue whisking for about 10 minutes or until the meringue looks super glossy and is no longer gritty from the sugar. Add vinegar and whisk to combine. Add 1/2 to 1 teaspoon of the pandan paste and fold through. You don't want it too green!

Add a large star tip to your pipping bag. To create a swirl in the meringue, like you can in my pictures. Add a drop or two of the pandan paste to the inside of your pipping bag and then add the meringue.

Line a baking tray with baking paper. I pipped a circle and then a blob of meringue on top. To create a tree like shape I then pipped around the blob in an upward motion to create a tree like shape.

Bake for 1 hour 30 minutes for the meringue to be crispy on the outside and slightly chewy/marshmallow on the inside. If you like your meringue to be completely set and crispy you will need to bake them for an extra 30min to an hour. Allow to cool completely

Sprinkle lightly with icing sugar and serve
Notes
Makes 10 - 12 depending on how big you make them. I made mine about 6 cm (2 1/2 inches) wide.
Make up to two days ahead and store in an airtight container.
The gold flecks you see on my trees are little edible stars. Used for decorating cupcakes.