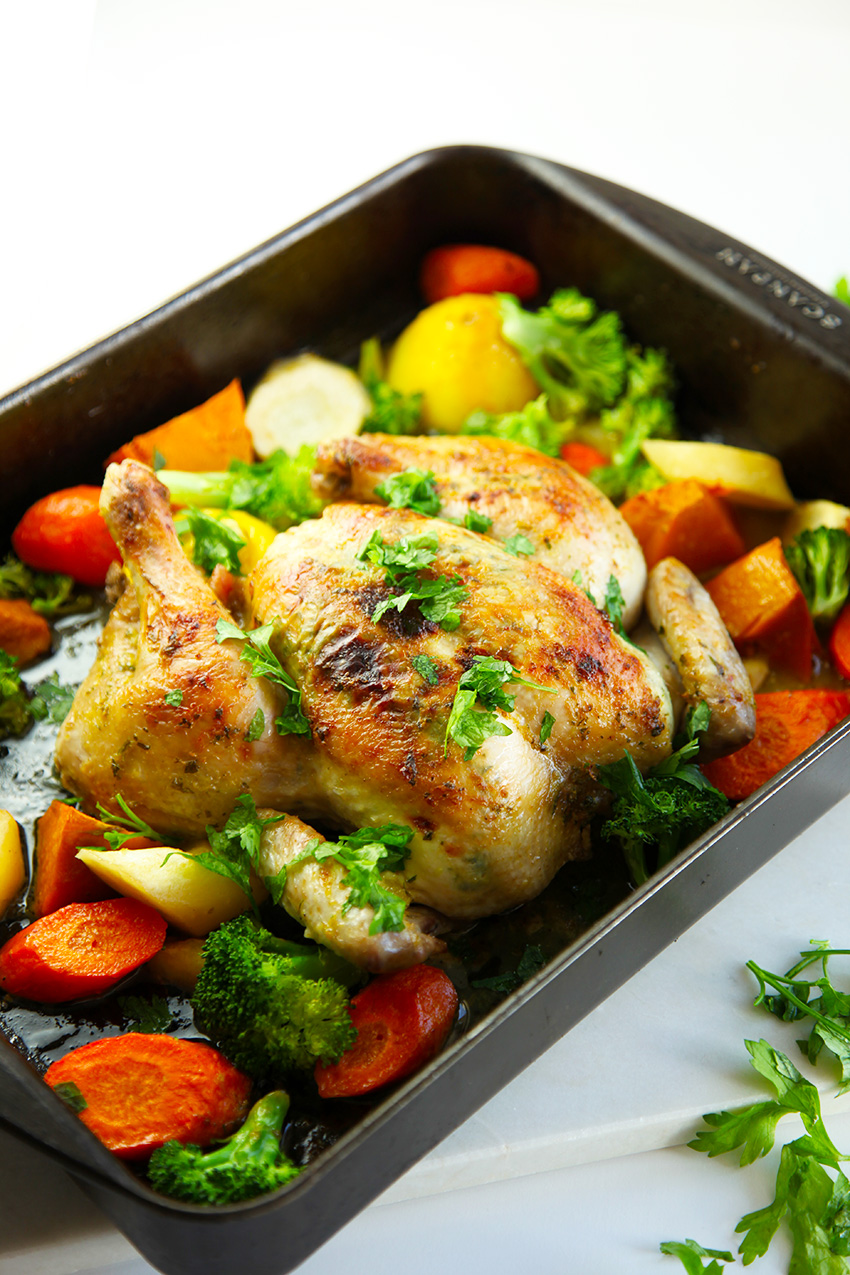 Quick roast lemon chicken is a great weeknight meal with minimum fuss. By butterflying the chicken it cooks in half the time and allows you to add your veggies in from the start.
I love meals like this that all go in at once and allow you to clean up while the magic happens. So easy and perfect for busy families. I have used the zest of two lemon which add a real lemony flavour hit. I think the lemon is really lovely with the veggies, particularly the pumpkin. Just be sure to cut your veggies in to large chunks so they don't cook too quickly. Enjoy xx
Quick Roast Lemon Chicken
Ingredients
1

free-range Chicken

(approx 1.6kgs, preferably organic)

60

grams

butter; softened but not melted

1

clove

garlic;

1

teaspoon

finely chopped parsley + extra to garnish

2

lemons

Veggies: Carrot

, parsnip, pumpkin, sweet potato, broccoli or whatever you like...
Instructions
Pre-heat oven to 200 degrees C (400 degrees F). Butterfly the chicken by placing it breast side down on the counter. Remove the backbone by cutting down both sides of the bone. Flatten it as much as you can. Turn it over and loosen the skin over the breast by easing under it with your hands.

Combine the softened butter, garlic and the zest of two lemons and place 3/4 of it under the skin and spread it around. Pat dry the skin with a paper towel and add the remainder to the top of the chicken.

Cut your veggies quite chunky and add to the pan (excluding fast cooking veggies like broccoli, add them when there is about 10-15 minutes cooking time remaining) with a splash of oil and season with salt and pepper. Cut the lemon in half and place two halves under the chicken and the other two cut side down in the pan.

Cook for 40 - 50 minutes or until cooked through. The juices should run clear once cooked. Alternatively test with a thermometer, chicken should be 75 degrees C (165 degrees F) once cooked.
Notes
If using potatoes - parboil before adding to roasting pan as they will take longer. Veggies cooked this way aren't super crispy but they have a lovely lemony flavour.
Cooking time will vary depending on the size of your chicken.