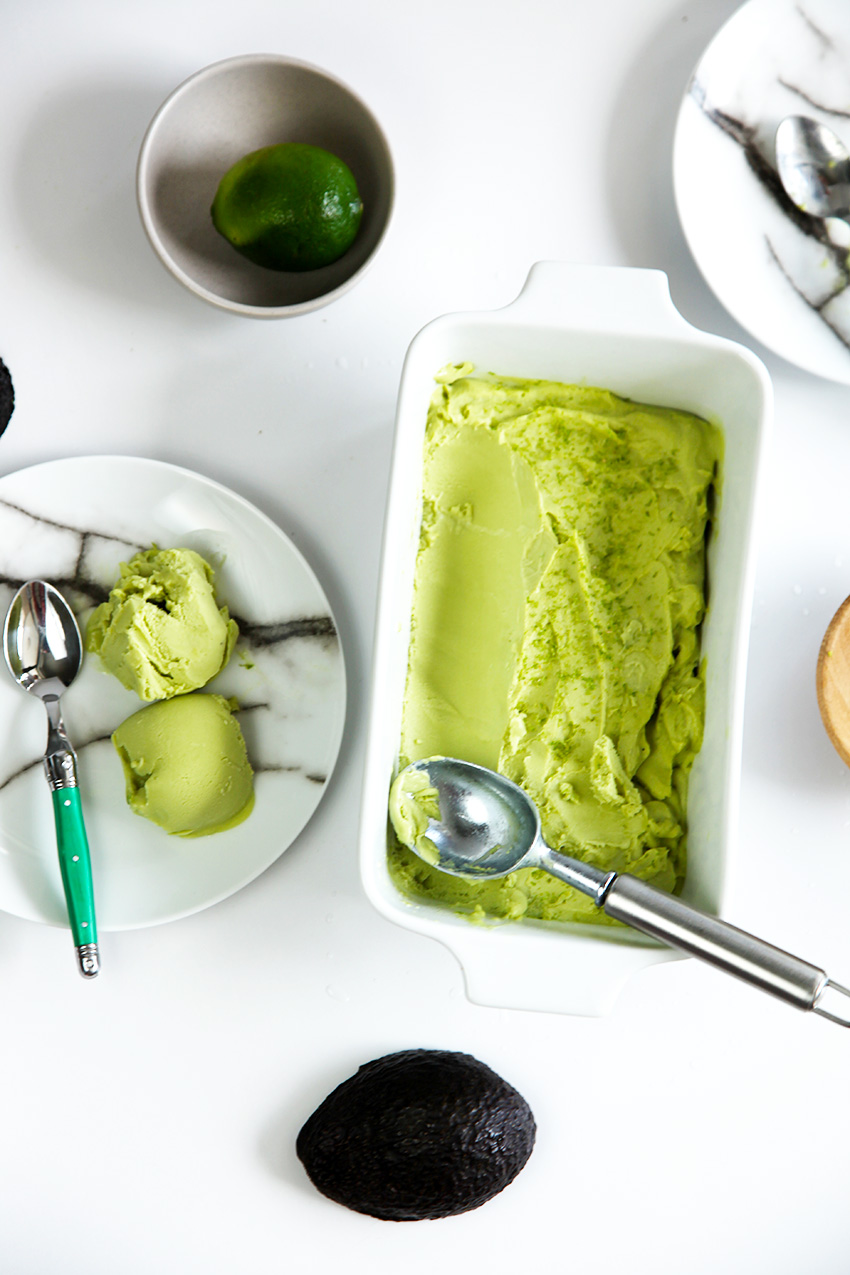 I have two weaknesses when it comes to food, chocolate and ice cream. I often enjoy a bowl of ice cream of an evening, and up until recently I would serve myself ice cream and H natural yoghurt – sneaky but brilliant right :)
But at 2.5 years old, H is now totally on to me. 'Me ice-cream mummy'. My trick is up!
I'm still trying to avoid sugar as much as possible, particularly before bed, so I was inspired to come up with a healthy alternative (for both of us), that tasted great and was smooth, creamy and of course delicious. This avocado lime ice cream is just that (also approved by a non avocado fan), so I'm sure you and any suspicious children will agree.
When you are done hang on to the avocado seed and grow a tree from it on your kitchen bench, the kids will love watching it grow. My instructions are below.
Avocado Lime Ice Cream
Ingredients
2

ripe avocados

(ripe but not over mushy)

1

can

(400ml) coconut milk

Juice and zest of 1 lime

1/4

cup

honey or maple syrup or your sweetener of choice
Instructions
Remove the flesh from the avocado and place in a blender with all the other ingredients; blend until smooth. Taste and adjust sweetness to suit. I found it it tasted sweeter the next day so don't over sweeten.

Churn in an ice cream maker as per your machines instructions. Add to a freezer proof dish and sprinkle with the lime zest. Serve as a soft serve or freeze until you are ready to use.
Notes
This ice cream freezes really well and doesn't get super hard - the perfect consistency.
Keep the seed and make an avocado tree from it. See my instructions below. The kids will love watching it grow.
To grow an avocado tree from your seed all you will need is: a seed, 3 toothpicks, a glass of water.
The pointy end of the seed should face up. Push the toothpick into the seed so you can suspend it over a glass of water. Don't let the seed dry out, water well, the seed should be partly submerged.
After a few weeks you will notice roots sprout and a few more weeks a stem and eventually leaves. H has loved watching it grow. It's almost time for us to plant it outside. We have another three growing on our kitchen bench now.