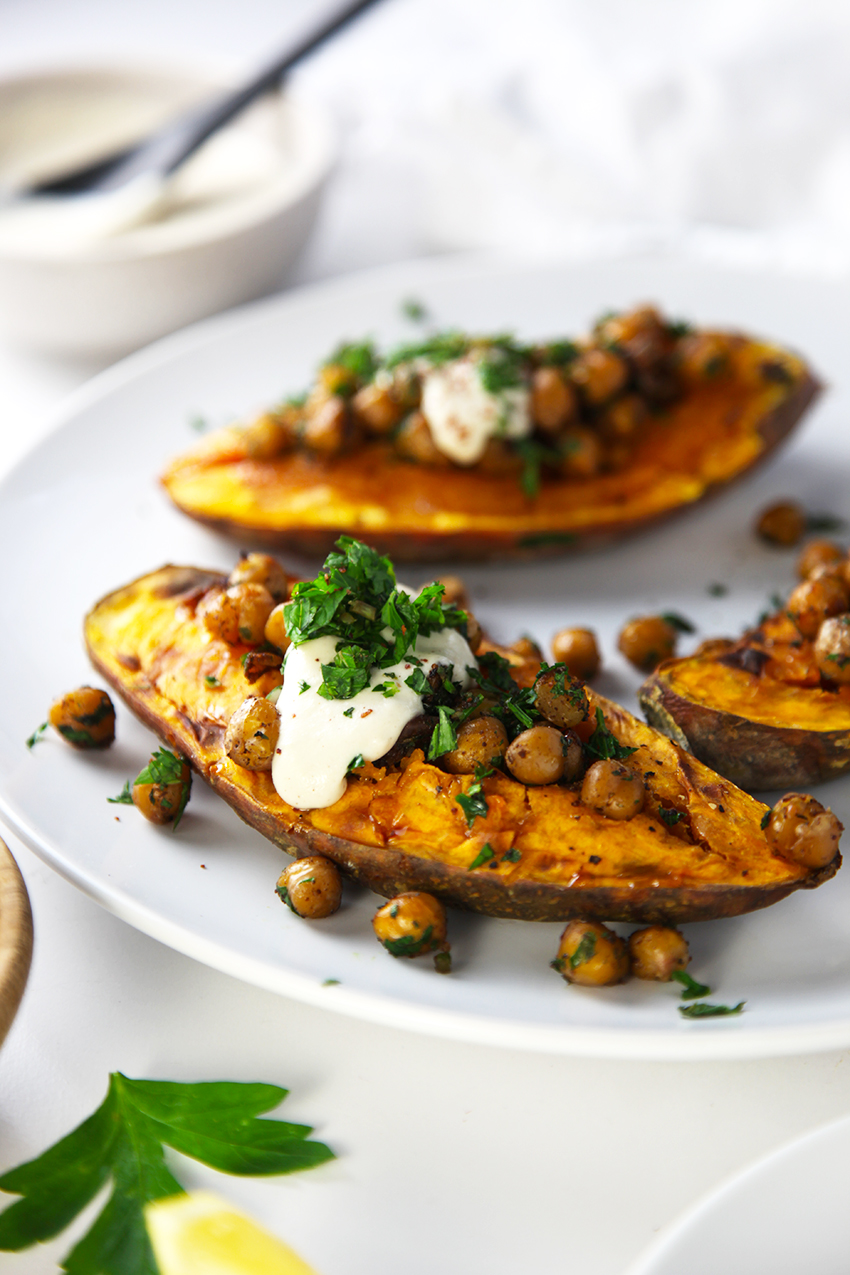 I have been a little sweet potato mad lately – but it has to be roasted. Something really magical happens when veggies are roasted and I can't get enough of them.
H on the other hand has decided he likes everything served raw. Now I'm not complaining. He will happily sit down and eat a bowl of raw carrot, broccoli stems, capsicum, cucumber, tomatoes, and even cauliflower but he has recently developed at hatred for pumpkin and sweet potato.
I thought I may be able to fool him with this roasted sweet potato dish by serving it topped with chickpeas and tahini but if I'm truthful he wasn't overly impressed. He had a taste, put a few more tablespoons of tahini on top, tried it again, picked the chickpeas off and ate them and that was about it.
I thought it was really delicious which is why I'm posting it, and its a great meatless meal option with ingredients that you probably have on hand. I hope you like it. xx
Roasted Sweet Potato, Crispy Chickpeas with Tahini and Sumac
Ingredients
2

small sweet potatoes

2

tbls

finely chopped mint

2

tbls

finely chopped parsley

Sumac to garnish
For the crispy chickpeas
1

tin chickpeas

1

tablespoon

oil

2

tsp

sumac

1

tablespoon

honey or maple syrup

pinch of salt
For the tahini sauce
1/2

cup

tahini

1/4

cup

water

1/4

cup

lemon juice

1

clove

garlic; minced

salt to taste
Instructions
Pre-heat oven to 200c / 400F. Give the sweet potatoes a good scrub (leave skin on ). Cut in half lengthways and place on a baking tray. Brush with oil and baked for about 30 minutes or until tender.

Drain, rince and dry the chickpeas; add to a heat proof dish. Mix the remaining ingredients and add to the chickpeas and toss to coat. Place in the oven and cook for about 20 minutes or until golden and crispy. Once cooked add half the parsley and mint and combine.
For the tahini sauce
Combine all ingredients in a bowl and mix well.
To assemble
Place your sweet potatoes on a serving tray and using a spoon make a little dent in the sweet potato so you can pile your chickpeas on (alternatively scoop out a little of the flesh). Top with chickpeas a good dollop of tahini, the left over herbs and a sprinkle of sumac. Serve
Notes
Serves 4 as a side (half a sweet potato each). Double the recipe to serve as a main or if you are super hungry