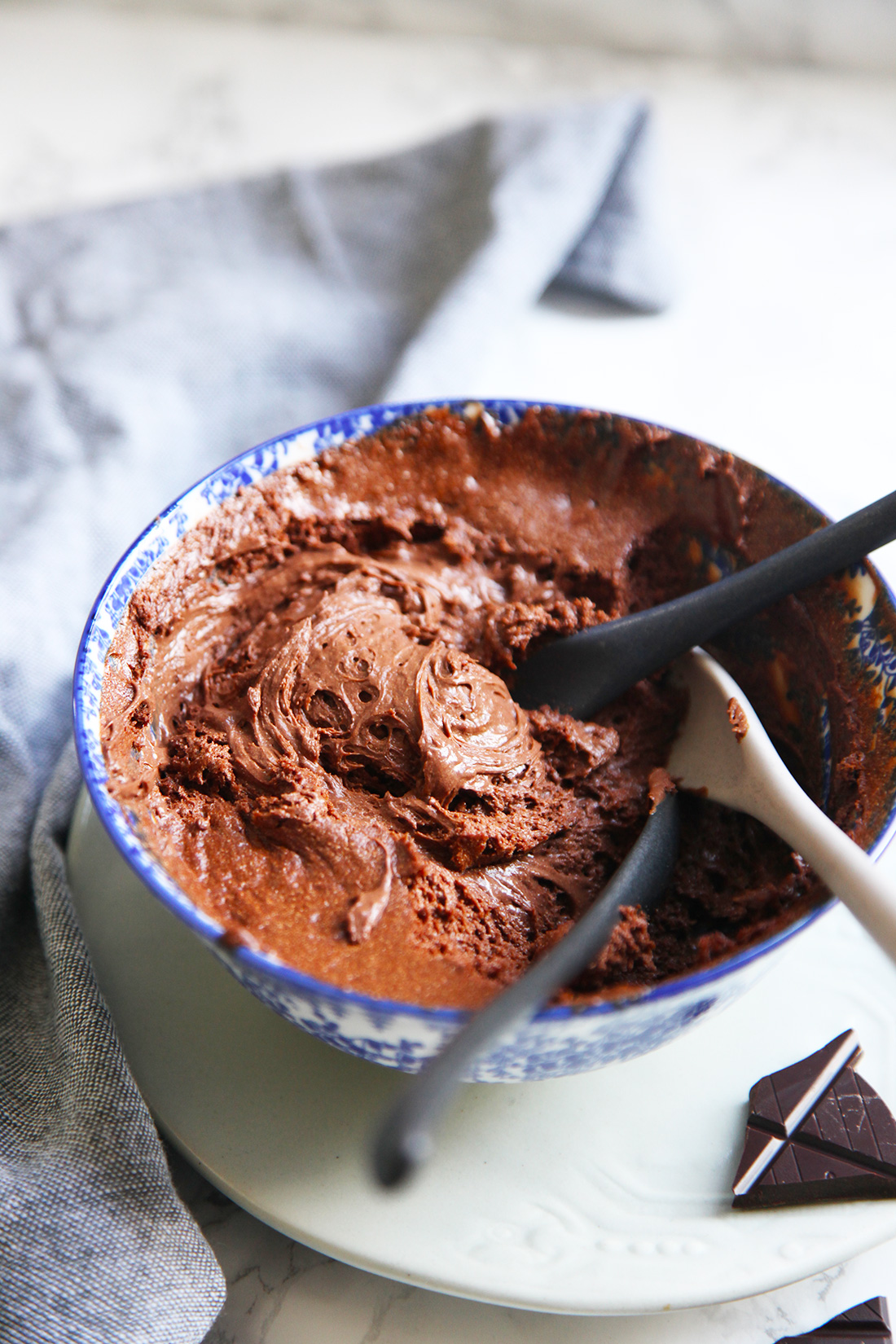 Chocolate mousse is my current addiction… and there will be none of that healthy avocado cocoa business here… this is a traditional French chocolate mousse – dark chocolate, eggs, sugar, butter and vanilla.
It's velvety, thick and super rich but also somewhat light and fluffy! I could eat the entire bowl on my own!
It's easy to make and only requires 5 ingredients.
You start by melting your chocolate and butter (feel free to make it an adult-only version and add a tablespoon of your favourite liquor to the mix). In another bowl whisk the egg yolks and sugar over heat until fluffy and pale. Whisk your egg whites and incorporate them all together. Allow to set in the fridge for a few hours.
You can add your mouse to individual pots or add to a large bowl, like I have, and let everyone dig in. What's a little chocolate mousse between friends!
What else can I do with my chocolate mousse you ask?
Make a simple biscuit base in a spring form cake-pan and add the mouse to the top, set in the fridge, dust with cocoa – instant chocolate mousse tart!
Add to glasses, set, and then top with cream, chocolate shards, raspberries – a perfect make ahead dessert for dinner parties.
Make an adults only version with a shot of rum and coffee – just like the Julia Childs version – yum!
Traditional French Chocolate Mousse
Ingredients
170

grams (6oz)

good quality dark chocolate,

I used Lindt 70% dark chocolate

100

grams (3.5oz)

butter

4

large

eggs, seperated

2/3

cup

sugar

1

teaspoon

vanilla

1

tablespoon

water
Instructions
Bring a small saucepan of water to a simmer. In a bowl add the the chocolate and butter and sit it over the simmering water without letting it touch the water. Stir until melted, then set aside to cool slightly.

In another bowl add egg yolks, sugar, vanilla and water and also sit over the simmering water and whisk until pale; about 3 mintues (it will still be somewhat runny).

Add to the chocolate and stir to combine.

Whick your egg whites until thick and glossy. (but not super stiff like you would with meringue)

Add a third of the egg whites to your chocolate and incorportate well. Add the remaining egg whites and fold though until well incorported. Add to invidiual pots or a large bowl and refridgerate.
This recipe uses raw eggs so best to avoid it if you are pregnant. Don't be freaked out by raw eggs though, it's perfectly fine. I grew up drinking egg flips – remember them! I have never had a issue.
If you make my traditional French chocolate mousse, be sure to take a picture and upload to Instagram with the hashtag #littlebigh. I'd love to see your creation. xx