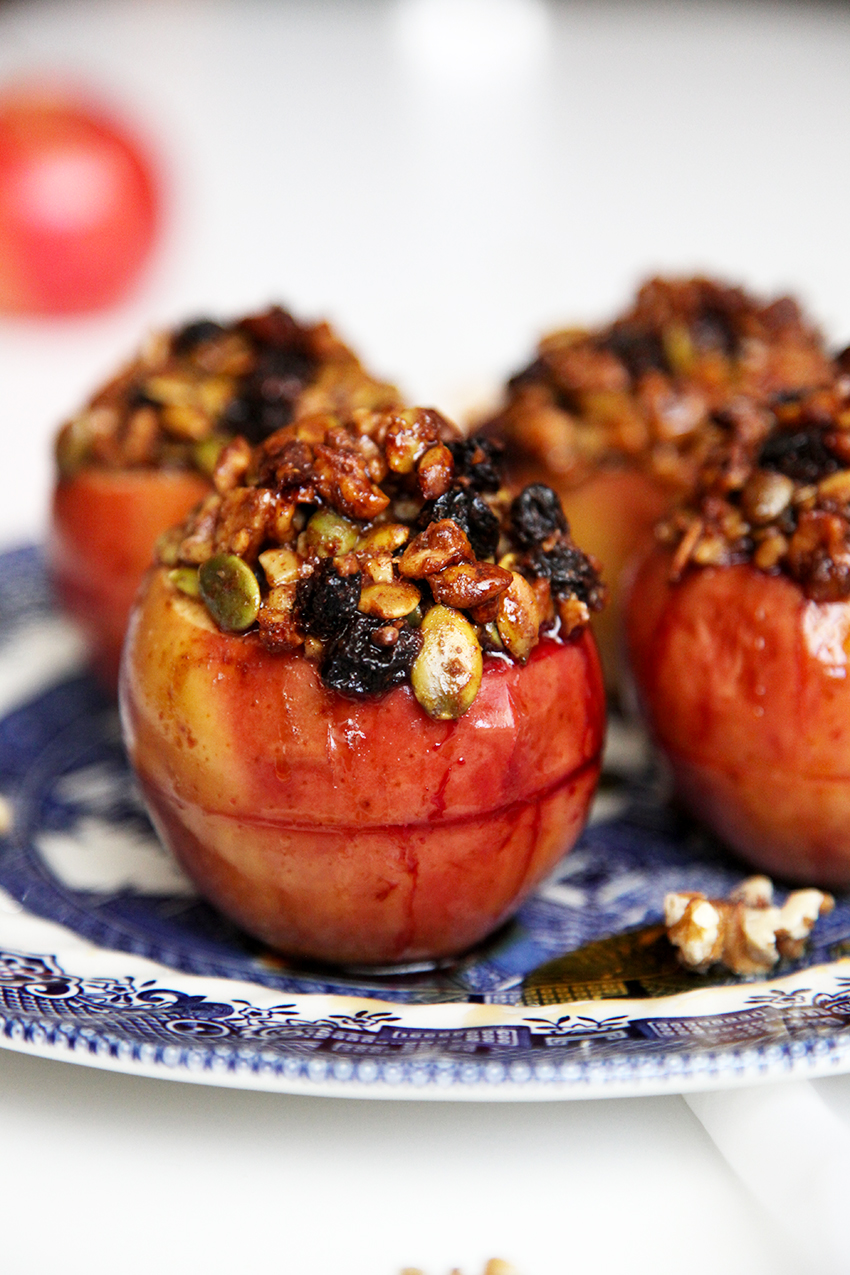 Baked apples is a classic dessert. It's so easy to prepare and this version is also healthy. So healthy in fact that it would make an equally delicious breakfast.
Most nights dessert for the little guy is natural yoghurt with a few berries, but its nice to go to a little more trouble on occasion. Baked apples are a great option, they are nutritious with whole ingredients, refined sugar-free and contain lots of superfoods.
I have filled my baked apples fresh blackberries and topped them with walnuts, pepitas, sultanas and maple for a crispy topping that is packed with nutritious ingredients that the whole family will love.
There are endless nutritious foods and ingredients that can be incorporated into our daily lives, so make every meal you serve your little one count – even dessert. What's your favourite superfood? Berries, which by the way are one of the great brain foods, are a definite Harry favourite, followed by most veggies, even the green ones! I am very thankful for a veggie loving 3-year-old. I can't get enough of quinoa, avocado, nuts, seeds and cocoa.
If you are looking for other healthy dessert options be sure to check out my other healthy desserts. The Eating Well website is also a great resource. How good does this watermelon pizza look? I know H would go crazy for it…
This is one of those recipes where you can get creative and fill them with whatever healthy ingredients you have on hand. Why not try raspberries, strawberries, peaches, or banana!
Don't feel like making your own topping, why not combine some pre-made muesli with a little grass-fed butter or coconut oil and you have a topping ready to go in seconds. Try this yummy DIY muesli recipe from Jamie Oliver.
Healthy Baked Apples with blackberries, walnuts, pepitas & sultanas
Ingredients
4

apples

(I used royal gala)

Handful of fresh blackberries

(any berries would work well, fresh or frozen)
Filling
1/2

cup

walnuts

1/4

cup

pepitas

1/4

cup

sultanas

1

teaspoon

cinnamon

1/2

teaspoon

ginger

1 - 2

tablespoons

maple syrup

2

tablespoons

melted butter
Instructions
Pre-heat oven to 180 C / 350 F. Wash the apples well and cut the tops off (this allows you to pile more of the filling on top). Using a knife, make a slit in the skin the whole way aorund the apple. It will stop them from bursting. Then using a knife core the apples and scoop out a little of the apple flesh to make room for the filling.

Chop the walnuts and add to a bowl with the remaining filling ingredients. Stir to combine.

Add a few blackberries to the apples and top with the filling. Put as much as you can fit on top.

Place apples in a baking dish and add 1/4 cup of water; cover dish and bake for 30 minutes. Remove cover and cook for an additional 25 minutes or until the apples are tender.

Serve drizzled with extra maple, natural yoghurt or ice-cream.
Notes
You can prepare ahead of time and keep in the fridge until ready to bake.