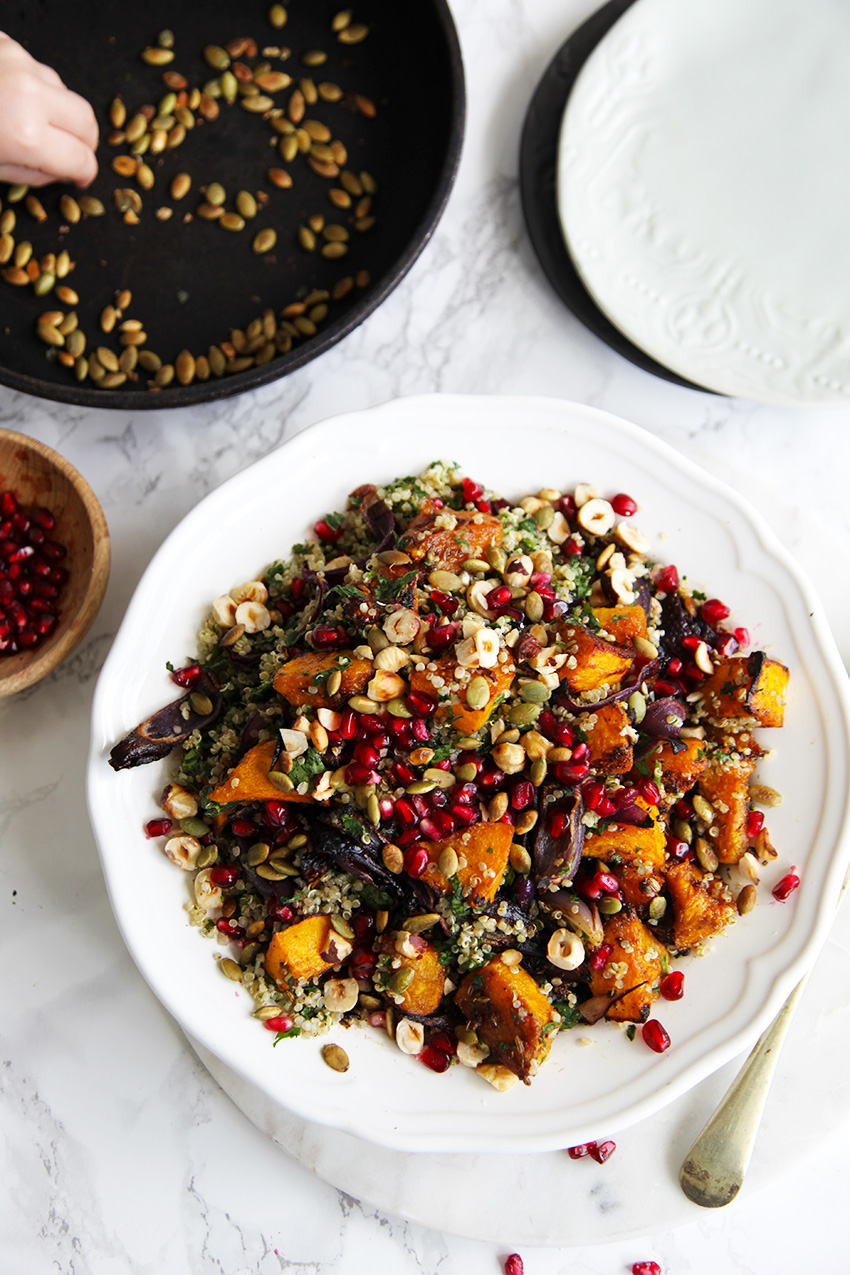 I'm a huge quinoa fan and given the chance I would eat it everyday!
I'm lucky that H also loves it, so I make it often.  Sometimes served as a meal, like this roasted pumpkin quinoa salad could be, and other times I will just season it and have it as an accompaniment to another dish.
I have also forgotten about it on the stove and turned it to mush, so it becomes porridge for the following morning…
So back to the recipe: the pumpkin is roasted with red onion, cumin, coriander, fennel seeds and maple, its delicious and you could totally eat it like that as a side dish.
The quinoa is dressed with are lots of herbs and spices; mint, coriander, sumac, lemon and its all topped with pomegranates, pepitas and hazelnuts – whats not to love…
Some other quinoa favourites: Quince, pumpkin, eggplant quinoa salad,    A big bowl of green goodness,
Spiced peach quinoa porridge,      Quinoa granola,      Spiced lamb quinoa pilaf,     Quinoa congee
Roasted pumpkin quinoa salad
Ingredients
For the roasted pumpkin
1/4

medium kent pumpkin,

or your pumpkin of choice (about 3 cups of chopped pumpkin)

1

red onion,

cut in to small wedges

1

tsp

ground coriander

1

tsp

fennel seeds

1/2

tsp

ground cumin

1

tbsp

olive oil

2

tsp

maple syrup
For the salad
1/2

cup

quinoa

1

big handful

mint

1

big handful

coriander

1/2

tbsp

olive oil

1/2

lemon, juiced,

or to taste

1

tsp

sumac
To garnish
2

tbsp

pomegranate seeds

1

tbsp

dry roasted pepitas

1

tbsp

dry roasted hazelnuts,

roughly chopped
Instructions
Preheat oven to 220 degrees C (425 degrees F). Cut pumpkin into chunks and place on a lined baking tray with the onion Add the remaining ingredients and toss to coat. Spread out in a single layer and roast for 25 minutes or until cooked through. Cooking time will vary depending on the size of your pumpkin chunks. Once cooked remove and set aside.

Wash the quinoa and add to a small saucepan with 3/4 cup of water. Cover and bring to the boil. Once boiling turn the heat to as low as possible and allow to cook for 10 minutes. Once cooked fluff with a fork and add to a large bowl. Set aside and allow to cool slightly.

Finely chop the mint and coriander add to the quinoa along with the olive oil, lemon juice, sumac and salt and pepper. Add the pumpkin and toss gently. Add to a serving plate.

Garnish with pepitas, pomegranates and hazelnuts. Serve.
Notes
To dry roast the pepitas and hazelnuts.  Add separately to a frying pan and cook over medium heat until golden.  Add the hazelnuts to a tea towel and rub with your hands to remove most of the skins. Then roughly chop. 
If you make my roasted pumpkin quinoa salad, be sure to take a picture and upload to Instagram with the hashtag #littlebigh so I can check out your creation. xx